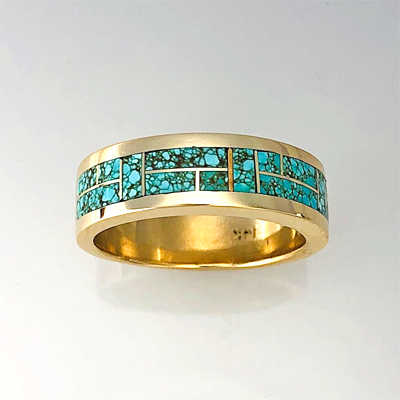 Although a resident of the East Coast, I was born and raised in New Mexico, so turquoise has always had a special appeal to me. That meant that, when it finally came time to get married, I knew that I wanted a wedding band that had a turquoise element. I started searching in all the places that a millennial would think of - Esty, and other websites - but kept coming up disappointed. Then it occurred to me that I should look for jewelers in my hometown: Albuquerque, NM.
Southwest Originals was the first website that came up when I searched for "Men's Turquoise Wedding Bands Albuquerque," and with good reason. Working with Patrick, the owner, was a joy, especially since we were doing it right at the start of the COVID-19 pandemic. Patrick made it easy to understand the terminology and get a good sense of what my options were. Over several telephone conversations, during which Patrick demonstrated a great deal of patience, we settled on a design (including my choice of one of several pieces of turquoise to use). Pricing was very fair, and certainly in-line with what I expected to pay. Patrick kept me up to date on the progress, and delivered the final piece in record time, especially considering the fact of the pandemic. Shipping was easy, and the packaging made it so that you would never guess there was a ring inside (great for security purposes).
The finished product is better than I imagined. I am so happy with my choice. You won't be disappointed with Southwest Originals
Daniel Scholfield
Hi Patrick,
Liz has shown me my ring (and let me try it on), and it is gorgeous…beautiful in its own right, and a perfect match to Liz's amazing rings.
Thank you so much for your phenomenal work, and we'll be sure to send some photos after the wedding this Saturday.
Thanks again, and when we are back in Albuquerque eventually, we'll have to stop by and meet you in person.
Brian
Patrick
I received the ring. It's exactly what I wanted, really awesome work Patrick!!! Fits perfect and is very comfortable.
Mitch
Your talent & skill brought to life exactly what I wanted with this! I couldn't have done this with any other jeweler. Thank you Patrick for being sooooo patient and most of all for understanding what I was after! You are amazing!
Pam Otto
Hello,
Just letting you know that I got My ring yesterday, it is AWESOME!!! Very Beautiful workmanship!!! Thank You very much for making this for me!!! ?
Mrs Jannetta Jackson
Funny you should email…I was thinking of you this morning…I thought "I need to email Patrick and let him know the reaction I got."
He loved it! First time I've ever seen him without much to say! haha
I think he was somewhere between wow and unbelievable when he finaly hugged me and said thank you…when I pointed out the inscription, there was a brief mist in the air…then of course the next day everyone at work got to see it…his son really liked it too. Said it fit him well. The name I gave was "The Storms Light".
Thank you again Patrick. You really caught what i was after and it was very easy working with you. I didn't feel uncomfortable at all when describing where I was going with this and your explanation of things helped me to understand the process…in other words, I didn't feel like I was being put off.
So know that everyone we know, will know of your website and if I am ever in the market in the future, I will surely give you a call!
Pam
Hi Patrick,
The rings arrived yesterday and they are great! You have exhibited great detail in your rings. I like the hopi ring and I am wearing it right now. I tried on the Franklin Mtn ring and it looks great. I have to wait until June 29 to wear that ring on a regular basis.If you ever are exhibiting your jewelry in Albuquerque, please let me know. I visit the area every once in a while. Usually it's a trip to the Dog House for a chile cheese hot dog before I head up for a hike up the Sandias. Take care, Patrick and thank you again for your great work. These are both great rings to cherish in the years to come.
Hector
Patrick,
I have been totally remiss about writing this e mail and I apologize. Attached is a photo of the wedding set you made for me. I absolutely love this set and have gotten multiple compliments. If fact, the jeweler that we bought the diamond from kept your card to refer customers to. You do fantastic work! I will come to your shop next time I am in Albuquerque to personally say thank you.
Once again, thank you!
Janice Lorton
Hi Patrick,My name is Liz, and a couple weeks ago my fiancé gave me the asymmetrical turquoise diamond ring you designed. It is absolutely perfect – it turned out even better than I expected, and is very much "me." I can't imagine any other ring being my engagement ring. Thank you so much! I'm so glad that Brian had the opportunity to work with you, I know he thoroughly enjoyed being part of the process. I've included a picture of the ring – I could also send you professional photos of the ring from our wedding this summer if you would like.I was wondering if you would also be willing to design a ring for Brian, inspired by this one. If you would be willing, here are some ideas we had:A simple white gold band with a very thin ring of turquoise inlay, perhaps at an angle to the ring itself Brian would like something with movement and/or asymmetry Brian is a ring size 9 We are open to any ideas you had as well Thank you again for sharing your artistic talent and passion with us!
Liz
Hi Patrick,
Everything has gone wonderfully! The ring is even more beautiful than either of us imagined. I'm sorry that neither of us have been in touch–we've been bouncing from place to place dealing with other wedding arrangements. But at every turn, Liz has been delighted to show off the ring, and everyone has been suitably wowed. I know that she's going to get in touch with you directly to talk about a ring for me…but also that she's really overwhelmed this week, so it may be a couple of days.
I'll have to get you some pictures of it on her hand. It's even more stunning in its proper place than it is alone.
Once again, thank you so much for your beautiful work, and for being so fantastic to work and collaborate with!
Brian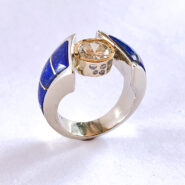 Patrick, you superseded all my expectations. I LOVE it!!!
You patiently worked through my original thoughts which melted away as you progressed through your drawings. You hit all my checklist requirements and It doesn't look like an engagement ring. It's casual but elegant. I absolutely love the lapis, it's a gorgeous blue. You kept the design profile much lower on my hand than I expected it would be which is great. Its more than I could have asked for.
Thank you for your expertise, artistic insight and for creating such a gorgeous piece.
Deidre
It took awhile longer than expected to put your beautiful ring on her finger but its finally where it was meant to be.She was so happy she was crying tears of joy! It was perfect and she absolutely loves it.Thank you again for all of your patience and hard work making this come true for us!
Trevor
Hi Patrick. The ring is incredibly beautiful. I love it but more importantly, Jeana loves it. She cried tears of joy when I put it on her finger. Thank you so very much for such an artistic, beautiful ring.We think a simple gold wedding ring to sit next to it will be perfect. For me, a ring with the inlayed opal in a pattern to match the engagement ring would be great.I will call you later this week to discuss the details with you. Again, thank you for creating this beautiful ring.
Paul
Good evening Patrick,I received the ring yesterday and it's beautiful! Thank you very much for creating such a stunning piece. I'm not sure exactly when or how I'm going to propose yet, but I can't wait to share this with Jess – she's going to love it!I'll be in touch in the coming months regarding a matching wedding band (assuming she'll have me!).Again, I truly appreciate all your help and the high quality of work you've delivered. Your willingness to share your knowledge without any pressure to make a purchase or use a specific gem made this a very enjoyable experience.Best regards.
Will
Hi Patrick,
My ring is simply stunning. There are no words to say how beautiful it is, it took my breath away when we first opened the box. It fits perfectly, the turquoise is beautiful and a perfect colour, the diamond is extremely sparkly and is cut perfectly. Every detail has been thought about and it has been crafted extremely carefully, you are very talented You have made us both extremely happy- especially me. Thank you for all of your hard work. I will send you some photographs in the near future.All the best.
Verity
OMG!!!!! So Brian opened the box and loudly proclaimed WWWWWOOOOOWWWWWWWW !!!! he then placed the ring on my finger while I had my eyes closed, I just couldn't stand the suspense.. …the ring is more beautiful than I EVER imagined – I can't thank you enough – this is PERFECTION. I meet hundreds of people every week – I can't wait to show it off. and…I'm putting it on facebook when I can take a good photo !!!! …what a wonderful 16th anniversary present !Rhonda and Brian …and we mean it, when you're in Florida, you MUST stop over !
Rhonda and Brian
Hello Patrick. We had my friend sign for the package since we were on vacation.We opened the ring this a.m. and are delighted at the results-it's beautifully designed and the gold work is outstanding! It fits perfectly. I proudly possess a "one of a kind " wedding band that I will wear contently forever.You are quite an artist! Thanks so much for all your hard work.
Karen and Tom Moser
Hi Patrick,
My ring arrived today and I am absolutely blown away. Once again, you have outdone yourself… it is elegant without being flashy (exactly what I wanted). You have given me a ring that I will treasure and enjoy for the rest of my life… I can never thank you enough.As I have said previously, Amy and I will have many happy anniversaries and celebrations ahead, so you can bet that you will hear from me again (you have earned a life-long customer).Take care, and let me know if you would like us to send you some photos of the wedding and close-ups of the rings. Also, I am happy to write a recommendation for your website if you would like one. All the best.
Brad
Hi Patrick,
This is Angela…I just wanted to say, WHAT A BEAUTIFUL RING!!! It is PERFECT!!! You do amazing work, thank you so very much for doing this ring for us… I cried when I got it. You made us both very happy!!!!
Again, thank you, thank you!!!We WILL spread your name around if anyone is looking for a unique ring…Take Care.
Teddy and Angela
Dear Patrick,Oh my God! You made the most beautiful ring I have EVER seen. I made Dennis open your package while I kept my eyes closed. When I saw him smile and say, "It's beautiful. I would have chosen this ring for you," my heart flew away. He put it on my finger and finally asked if I was going to open my eyes. When I did, I started crying!!!Thank you, thank you, THANK YOU!! =DYou made our dream a reality.
~ Kristina & Dennis Nagy